Meet the Staff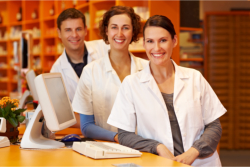 We are graced with a very caring staff in the services of our Customer Service Representatives as they continually provide unconditional love and care towards our beloved clients and patrons.
Our pharmacists are available 24/7 for emergencies and non-emergency situations. All of our staff consists of exceptionally trained and Certified Pharmacy Technicians to assist you in your medication needs.
To learn more of our services, visit the Services Tab or call us at 201-963-1903.
FREE Pick Up and Delivery of Prescriptions